Ankes Wonderland
Help save the planet with Made-to-be-loved garments.  

Feel comfortable, beautiful and loved in designs that are sewed just for you!

Sustainable and vegan designs are the key value of my brand.

✔️ Made-to-order (Fabric is ordered and garments are sewed after receiving your order.)
✔️ Made-to-measure (Garments are sewn in your measurements.)
✔️ Printed and sewed in the USA
✔️ Sustainable and Vegan fabric and labeling
✔️ Eco-friendly packaging


Mission Statement
Wear a piece of art!
Anke Wonder's original acrylic paintings are printed on organic cotton, creating one-of-a-kind fabrics. Therefore you wear a unique garment with fabric designs you won't find anywhere else! Look for this symbol 🎨 in the product description!
Learn more
Made-To-Measure Clothes
Empower yourself with outfits that are custom made just for you and your body shape! Anke Wonder's Made-To-Measure Clothes are garments to your specific body measurements and needs.
Shop now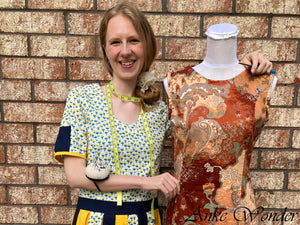 Gift Wrapping
Need it gift-wrapped? No problem! 
Add your item to the cart and you can choose this beautiful gift wrapping.

It is out of fabric which makes it a reusable and eco-friendly solution.

The gift wrapping will be customized to the size of your gift for the perfect fit. Design may vary. 
Make your gift more memorable by using Anke's convenient gift wrapping option. 
Get a miniature version of your outfit!
Treat yourself with a miniature version of your chosen outfit.

By choosing the miniature outfit, we will sew a miniature version from the leftover fabric of your garment that fits any Barbie or Ken sized doll.

No matter if it's for your children, grandchildren or simply for yourself, it is in every case a special designer piece.

Ready to bring joy and help to reduce the textile waste?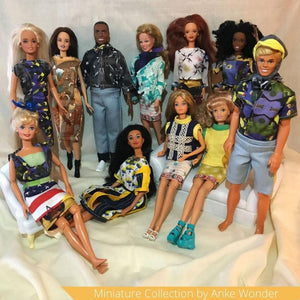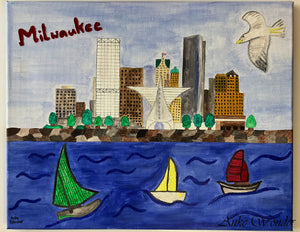 Hand-embroidered Acrylic Paintings
Discover Anke Wonder's original hand-embroidered art, celebrating nature, animals and cityscapes. The embroidering gives the painting a three-dimensional effect, combining fashion and art.
Learn more
Mural Painting
Do you have an outside facade or indoor wall that needs some color or catchy design? No matter if you already have an idea in mind or you are still looking for inspiration. I can help you from brainstorming to painting your wall. 
Get a quote today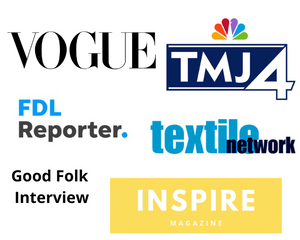 As seen in
Anke Wonder was featured in premium fashion magazines like the British Vogue as well as the local newspaper FDL Reporter.

Cassandra McShepard from TV channel tmj4 interviewed Anke as well as other podcasts.

Ankes' articles about sustainable fashion have been published in magazines like Inspire Magazine UK and TextileNetwork.
Find out more
Even more products
Anke Wonder's colorful Illustrations and Paintings are now available on mugs, mouse pads, notebooks, clocks, stickers, shower curtains, blankets, socks and so much more!

Shop on third-party platforms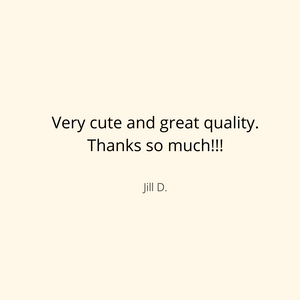 Interview with Anke Wonder on tmj4 'Milwaukee Tonight'
Journal
Learn more about my partnership with Shein and their first eco-consious collection.
Ready for an optimistic vision of reversing global warming? Get inspired also by Peter Diamandis' work in advancing technology for a better future.
We have been trained to think that paying more for a garment is a rip off. But how is it possible that clothing equals the prices of for example, a burger?